To be honest, I didn't know who David Bowie was until his death in early 2016. When he passed, the internet blew up with news of his passing. Eventually, like every other millennial, I looked up on Bowie's music, wikipedia page, and all that stuff.
Because I wasn't into fashion at that time, my first reaction after seeing Bowie in his Ziggy Stardust character was literally "What the fuck this guy is weird". The makeup, the bright red hair, the jumpsuit, and the boots were too much for me too handle at that time. I couldn't understand. A man, putting on makeup and dressed like this. It felt wrong.
Why Bowie?
Fast forward to early 2017, this time I've been into fashion for a bit, keeping up with the trends, and watching these wild runway shows like Comme Des Garcons' F/W 17/18. I'm discovering all these different vibes, and different styles, trying to incorporate the ones that I like into my own outfits.
One of the styles that I'm really drawn to is the "SLP aesthetic". Androgyny, loose fitting T-shirt, black skinny jeans, and Chelsea boots. Casual, yet smart at the same time. Around this period of time, being bored out of my fucking mind, I decided to read about the history of all these fashion houses. Naturally, I started with Saint Laurent Paris.
In an interview Hedi Slimane gave to Yahoo, this was the statement that made me take a another look at Bowie's fashion style:
"They looked the same and I wanted to do everything to be like them… David Bowie, Keith Richards, Mick Jagger, Mick Jones, Paul Weller, I felt connected to their allure, aesthetic and style…"
Looking at Bowie with an open mind
Of course at this point I had to see for myself what exactly Hedi meant by "allure, aesthetic and style". After looking through the many outfits and different characters Bowie has done throughout his career, I understood what Hedi meant, and I was so amazed. His creativity, his confidence, his boldness to wear these crazy outfits. I began to truly understand why Bowie is considered to be a legend.
Here's some of my favorite Bowie pictures, the ones that made me look up to him as my fashion idol.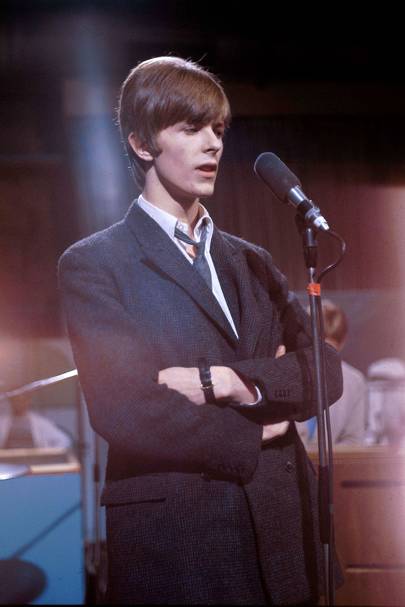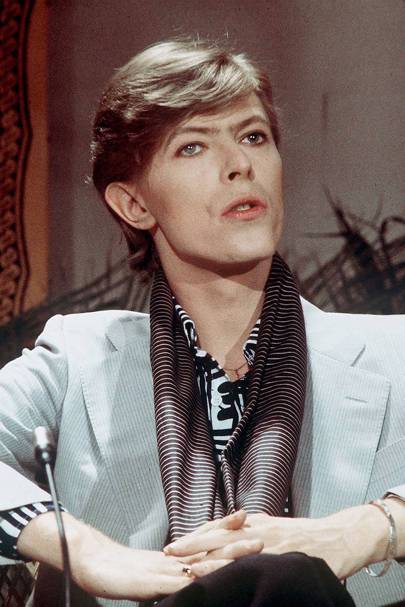 Bowie's influence on me
Being skinny, I bought a lot of women's clothing because they fit better. Family and friends knew this, and their reaction was along the lines of either "Are you gay? Why are you wearing girls' clothes?" or "Are you becoming a girl?". Fuck, no. It's just clothes. At first these remarks didn't bother me much. But gradually, it made me feel like I was doing something "wrong".
I would avoid shopping women's clothes whenever my family was around, be it online or in-store. Also, being in an asian country, shopping at the women's section can be particularly stressful as it like people are silently judging (or maybe it's just me). I once told someone I'll probably look into women's Saint Laurent jeans, and that person replied "women's jeans are designed to show off the ass dude. Don't even try!" I mean, what the fuck?
Being into fashion, I should know better to not let these comments stop me from what I want to wear. But sometimes, I need a reminder. And Bowie is the one that I look to for that reminder.
Bowie is the reminder for me to not be afraid to wear women's clothing and dress androgynous. He wore a dress. He wore makeup. He looked fucking great. After all, his era was probably more conservative than now, and he didn't care. Why should I care?
Bowie is the reminder for me to be bold, and confident. Even in jumpsuits and tights, he pulled it off with such confidence. So much confidence that people probably forget he's wearing a damn jumpsuit! That's the kind of confidence that I remind myself to have, no matter the outfit I'm wearing.
But probably the most important thing of all, Bowie made me realize that one does not always have to conform to gender roles. A guy could dress like a girl, and a girl could dress like a guy. I don't know how to explain it well, but I find it fascinating. It's like some kind of anarchy, resisting society's rigid "rules".
It's funny how much I changed in just 6 months. I was one of the people who made those comments, and now I'm thinking all those comments are ignorant.
If you've read this far, I wanna say thank you for taking the time to read it. I'm not a fashion student, or a fashion model. I'm just interested in fashion, and I'm sharing my thoughts and opinions, for what they are worth.